An excellent flourless chocolate cake from my master Pierre Hermé
---
About

this recipe

To be honest, I always tried to get away from "flourless" recipes : I always found them either too fat or too sweet, or too bland. However... this recipe is different, and just about perfect, nobody will notice the absence of flour, and the texture and taste will make your day at every bite, trust me !
Whether you are avoiding gluten or not, just try this recipe and you will love it !
---
Source

of the recipe

I was given this second hand book of renowned Pierre Hermé "Desserts by Pierre Herme", with so many delightful recipes.

To purchase online, see HERE
And recently, a classmate from my pastry school asked me whether I could show her my Hermé books written in English, which made me read this book

The recipe is on page 10
---
Modifications

to the original recipe

I modified only a few things...

● I am not adding the extra whole egg, as I figured there are enough egg whites (6 !)

● I added Almond Flour for a better texture
---
---
---
---
---
---
---
---
Preparing the mold
Butter and flour your 7.87" (or 7 7/8" or 20 cm) diameter mold, then place it in the refrigerator until needed
If you are using a silicone mold, you needn't butter it
---
The chocolate
1. Hermé recommends the chocolate "Valrhona Manjari".

If you live in the Los Angeles area, you can find Valrhona chocolates in a few stores like SURFAS, Jane's Cakes or at Nicole's market (South Pasadena). I prefer to use half Dark Chocolate and half Milk Chocolate.
Jane's Cake & Chocolate Supply
645 Foothill Blvd
La Cañada Flintridge, CA 91011
USA
Nicole's market
921 Meridian Avenue
South Pasadena, CA 91030
USA
Surfas
3225 W Washington Blvd
Los Angeles, CA 90018
USA
2.
Melt the Dark Chocolate (¼ lbs or 113 g) in a double-boiler
3. Mix from time to time with a rubber spatula
4. When the Dark Chocolate (¼ lbs or 113 g) is all perfectly melted, remove from heat. We can't use the Dark Chocolate (¼ lbs or 113 g) right away as it is too hot and would burn the Egg Yolks : Wait until the temperature reaches 120 °F / 45 °C
5. In the bowl of a stand mixer (like a Kitchen Aid appliance), combine the Butter (⅓ Cup or 86 g), the Sugar (3 Tablespoons or 37 g) and the Cocoa Powder (2 teaspoons)

You may use either a stand mixer (like a Kitchen Aid appliance) or an electric beater
6. Beat until smooth
7. Mix in the Egg Yolks (2)
8. Mix in the Almond Flour (¾ Cup or 70 g)
9. Scrape up any batter residue sticking to the bottom of the bowl
10. Pour in the Dark Chocolate (¼ lbs or 113 g) and mix
---
Beaten Whites
11. In another bowl, beat the Egg Whites (6) on medium speed, until soft peaks start to form
12. After a few minutes, increase the speed and add the Sugar (¼ Cup or 62 g)
---
Folding
We have two bowls - we need to carefully fold the whites into the batter
13. Mix one third of the whites into the chocolate
14. Fold carefully another third of the whites, with a rubber spatula
15. Repeat with the last third of the whites
16. Pour the mixture into the mold that you took out from the fridge
---
Baking
17.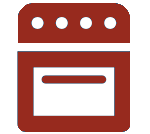 Bake in in preheated oven at 320 °F / 160 °C, for about 35/40 minutes.

The longer you bake, the drier the cake. If you like your cake moister, you will need to reduce the baking time
18. The cake will rise...
And after baking, the cake will "fall into place"
You may decorate by sprinkling icing sugar