A delicious brunch as served in Basque Country, Spain
---
About

this recipe

A Basque dish that I tasted in Bilbao, a tasty and simple dish !
---
En route to Bilbao
While travelling in the Basque Country, I spent a few days visiting beautiful Basque Country towns and landscapes
---
'Games of Thrones'
If you liked the series "Games of Thrones", you should consider stopping on your way to Bilbao, to at least 2 film locations
The first Film Location is Itzurun, with this spectacular view from the beach
Second stop, Gaztelugatxe, a small island attached to the mainland by a tiny stone bridge, a location known from the middle ages
It has been used as a religious pathway as a 'Stations of the Cross'
---
Le musée Guggenheim
Once arrived in Bilbao, you can't miss the beautiful Guggenheim Museum of Contempary Arts
---
The Casco Viejo
One of the best culinary experiences in Bilbao lies in the old district called the "Casco Viejo", with lots of tapas bars and great local restaurants...
And here's a square in the old district, full of restaurants, where I ate this dish
---
---
---
---
---
1. First, prepare the Basque Sauce
2. Take an oven proof dish
3. Pour the Basque Sauce (3 Cups or 800 g) in the dish
Cazuela Clay Pan 8.5 inch
Emile Henry Baking Dish
4. For the Cheese (#ERROR 2 or 30 g), take a Basque cheese if you can, otherwise a good European cheese
5. Push the Cheese (#ERROR 2 or 30 g) to create "holes"
6. Peel the Spanish Chorizo (#ERROR 2 or 80 g) and slice
---
Method 1 : In the oven
7. Place the Eggs (4) : one per "hole"
8. Dice the Green Bell Pepper (½) and lay on the dish
9. Place the Spanish Chorizo (#ERROR 2 or 80 g)
10.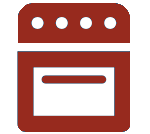 Bake at 380 °F / 190 °C for about 10 minutes
---
Method 2 : Poached eggs
11. Another method is to bake without the eggs
12. Poach the eggs separately in warm water
13. Then place the poached eggs in the baked dish
There you go, a simple Basque dish that you will love !
On egin ! (Bon appétit in Basque language)