A delicious and elegant dessert, with hazelnut and mandarine flavors, to celebrate the beautiful swans of Bel-Air in Los Angeles !
---
My first dessert at the Pastry Show
If you remember the show 'Le Meilleur Pâtissier', my attendance to episode 1 was somewhat of a Hollywood production movie, somehow close to a bad western movie and definitely close to a horror movie
After sailing on a tiny boat from (supposedly) California all the way to the tent in the outskirts of Paris, my first mission was to invent a dessert based on an extraordinary animal
And for this first dessert, I had decided to make a dessert that reminded me the Swan of Bel-Air
A few years ago, I went to a cocktail party in a famous Hotel in Bel-Air (Los Angeles) and in their small lake were two beautiful swans. I remember they had gold and silver tinted feathers that I found beautiful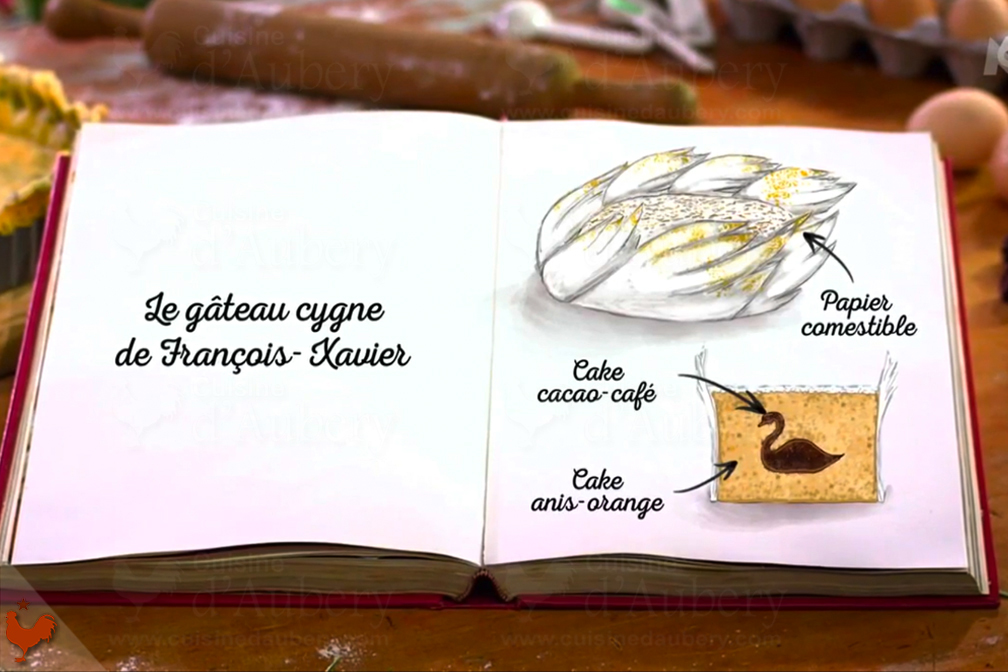 And so, here's the recipe to make this dessert again. However, I decided to change the taste of the cake. This one is one of my favorites !
Here on the photos, the jury Cyril Lignac and Mercotte come to cheer me up for the first time. And as I was nervous and as always a bit clumsy, I spilled the batter on them : Not the best way to impress them !
In retrospect, I laugh about this first batter-y encounter.
In the end, Cyril found this dessert elegant, and quite original !
If you never heard of it, "Wafer Paper" is an edible paper-like, with no taste, but you can use as a paper for your pastries
And despite my stress and the baking that I almost completely failed, the jury appreciated my dessert
---
About

this recipe

Let's do this cake again, with hazelnuts et de mandarine, a combination that is intense and refreshing !
You will notice that this dessert has a little of flour. However - If you don't want any flour, you may even remove it completely (I already did and the texture was still good)
And the decoration with the swan feathers is something that you will see, is fun to make ! And people find it very elegant and original !
A fun dessert to make and a real tasty bliss !
The Swan of Bel-Air is my own creation and with more time (than at the show), it turns to be elegant and real tasty !
---
---
---
---
---
---
---
---
The Cake
1. In a mixing bowl, mix the Eggs (6) and the Sugar (1 Cup or 200 g)
2. Whisk together
Large Mixing Bowls, Stainless Steel
DeBuyer Whisk
KitchenAid Whisk
3. Add in the Honey (2 Tablespoons or 40 g), the Almond Extract (2 teaspoons or 10 g), the Grand Marnier (1 Tablespoon or 20 g), the Salt (1 pinch) and whisk
4. You will need the Mandarine Zests (from 2 fruits), add in and mix
5. Add in the Mascarpone Cheese and the Butter (softened at room temperature for 30 minutes), mix
Microplane Zester Grater
Zester Deiss
KitchenAid Silicone Spatula Set
6. Chop the Hazelnuts in a Food Processor (with chopping blades) ('robot coupe')
7. Add in and mix
KitchenAid Food Processor
Food Processor Cuisinart
DeBuyer Whisk
8. In a separate mixing bowl, combine the Flour (¼ Cup or 40 g) and the Baking Powder (1 Tablespoon or 12 g)
9. Sift the powders on top of the batter
10. Wrap airtight, refrigerate for 2 hours
Sifter for Baking
OXO Mini Strainer
Food Wrap
---
Baking
11. Coat the mold with butter and flour (or non stick spray), or like I did, with parchment paper
7 inch Springform Pan
Non-stick 9-inch Springform Cake Pan
Parchment Paper Roll
Reynolds Parchment Paper, 30 Sheets
12. Pour in the batter
13.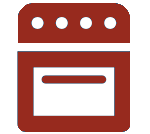 Bake in preheated oven at 380 °F / 190 °C for 30 minutes
14. Take a knife or toothpick to the centre of the pie. If your toothpick or knife comes out wet, it's not finished baking. If it comes out clean, or with a tiny pit of filling on it, it is finished!
Perforated Baking Pan
USA Warp Resistant Baking Pan, Aluminized Steel
Silicone Baking Mat
15. After baking, unmold and cool down on a cooling rack
16. Cut the cake and give it an oval shape
Round Cooling Rack
Nonstick Cooling Rack
---
Decorating with feathers
17. Melt the White Chocolate (¼ lbs or 100 g) (in a microwave or in a doub le boiler)
18. Finely chop the Shredded Coconut (1 Cup or 100 g) using a Cup Food Chopper
Ninja Food Chopper Express
19. Using a brush, coat the cake with White Chocolate
20. Sprinkle Shredded Coconut. While cooling down, the chocolate will "glue" the Shredded Coconut
21. Refrigerate
Pastry Brush
Silicone Brush, Heat Resistant for Pastry and Barbecue
---
The wafer paper
Here's the Wafer Paper (some Wafer Paper) that puzzled Cyril Lignac : An edible paper that is used for waffers, nougats, Spanish Turon for instance. Here, we will use it for decoration
I must insist : all wafer papers are different
Some brands "melt" when used with water, others are too rigid, etc...
You will need to try several brands. The one that I recommend is an Italian brand "Saracino"
22. Start by cutting long oblong feathers shapes
23. Then cut small narrow strips along the edges
24. To reproduce the golden hue, I am going to use Edible Gold dust
25. Mix the Edible Gold dust and the Vodka (or water)
Gold Pastry Dust
26. Dip in finger in that mixture
27. Quickly and thinly spread the liquid
28. After a few minutes, the feathers are going to bend while drying
29. Be aware that all wafer papers are different. Some do not work !
30. Once the cake has cooled down, simply tuck the dried feathers around the cake
31. I go baroque ! A lot of feathers create a nice effect, don't be shy !
Here you are !
Beautiful and delicious !
Bon appétit !