Delicious Lenôtre's Pistachio and Raspberry Cakes
---
About

this recipe

One my favorite places on this planet (after Hawaii of course) is Saint-Jean de Luz, on the west coast of France, in beautiful Basque Country
And here, I am showing you one of my favorite desserts that I taste every time I visit the region
To see my post about Saint-Jean de Luz, click HERE
And I am showing you here an excellent and tasty little cake, the "Moelleux", a pistachio cake with a raspberry jam insert
So, being such a wonderful person with the rest of the human kind who has been waiting anxiously for this recipe, I decided to show you the step by step instructions, along with all the little secrets to perfect these tasty cakes, called "moelleux" in France
Don't thank me for it. Instead, thank Lenôtre, the pastry star of this recipe!
---
Source

of the recipe

This is a recipe that I found in Lenôtre's book "Petit Pastries for Tea Time"

To purchase the book online:
Petit Pastries for Tea Time

The recipe is on page 112
---
Modifications

to the original recipe

I modified a few things...

● Lenôtre makes the jam from scratch, I instead purchased Raspberry Jam to go faster

● I modified Lenôtre's original recipe as I wanted a texture that is more of a "moelleux" which is thicker than a muffin)
---
---
---
---
---
---
---
---
The Raspberry Filling
1. Mix the Raspberry Jam (½ Cup or 180 g) in a Cup Food Chopper or with an immersion blender
2. Place in the freezer
3. Wait for 1 hour at least
Ninja Food Chopper Express
Immersion Hand Blender Bamix
---
The Batter
4. Dice the Butter (4 Tablespoons or 50 g) and let soften at room temperature for 1 hour
5. In a large mixing bowl, mix with a spatula the Butter (4 Tablespoons or 50 g) and the Pistachio Paste (⅓ Cup or 70 g)
6. Add in (but do not whisk them) the Egg Whites (½ Cup or 120 g) and mix
Large Mixing Bowls, Stainless Steel
Polyglass Spatula
You may find pistachio paste in specialized stores, but the best way to enjoy your own pastries is to make the paste yourself
I am showing you a few recipes HERE
Pistachio Paste Fiddyment Farms
Pistachio Butter
7. Sift above the bowl : the Icing Sugar (½ Cup or 90 g), the Almond Flour (¾ Cup or 70 g), the Flour (⅓ Cup or 50 g) and the Baking Powder (½ teaspoon or 1 g)
8. Mix
---
The Whipped Egg whites
9. Whisk the Egg Whites (4 Tablespoons or 60 g) to soft peak
10. Beat on high until firm peaks start to form, then add in the Sugar (2 Tablespoons or 30 g) and keep whisking (the sugar holds them together)
KitchenAid 7-Quart Stand Mixer
Hand Mixer
---
Folding the whites
11. We now need to fold the whipped whites into the batter
12. Add 1/3 of the whipped whites into the bowl
13. With a wire whip, fold, by gently turning the whisk to incorporate the whites
14. Do NOT whisk ! Whisking would break the whipped whites
15. Repeat twice with the remaining thirds of the whites
---
Mise en moule
16. For the molds, I am using silicone molds, 2.75" (or 2 3/4" or 7 cm) in diameter. To purchase online, see HERE
17. Pour one half of the batter in the muffin molds
18. You may use a Pastry Bag, a spoon, or a measuring cup with spout
Silicone Muffin Pan, 2.75 inch
Perforated Baking Pan
19. Pour the Raspberry Jam (½ Cup or 180 g). If you had placed it in the freezer (as I mentioned), the jam is easier to place, otherwise it may be too liquidy
20. Pour the remaining batter to cover the jam. Make sure to stop before the top
---
Pistachios Bits
21. You may add pistachio bits before baking. Pros: they will stick to the batter. Cons: They may overbake and get too dark. (I prefer adding those after baking).
22. Mince Pistachios with a Cup Food Chopper (or with a knife)
23. Sprinkle on the batter
Ninja Food Chopper Express
Raw Pistachios
---
Cooling down
24. Important : Cover with plastic wrap and place it in the refrigerator for at least 30 minutes. This step is important, as the batter continues to absorb the flour. As a result, the cakes will bake better, trust me.
---
Baking
25.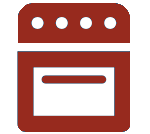 Bake in preheated oven at 320 °F / 160 °C for 20/30 minutes
26. To check whether the cakes are fully baked, put a knife into a cake and if it comes out clean they are cooked
---
Topping
27. If you had decided to add the pistachio bits before baking, they may be too dark, and you may want to sprinkle some Icing Sugar
28. If you had not added pistachio bits yet, you may want to add them now. With a pastry brush, brush the cakes with jam or syrup (this will be our glue)
29. Then, cover with the chopped Pistachios (½ Cup or 50 g)
Clear Glaze
Pastry Brush
Silicone Brush, Heat Resistant for Pastry and Barbecue
30. You can top with the Raspberries (6)
Place it in the refrigerator for at least 2 hours before serving
This is torture...
The only way to feel better is to bake these cakes and eat them... Bon appétit!