The Mendiant Tart by chef Benoit Castel is a modern yet simple tart made with chocolate ganache and nuts, a real French treat, that you will love
---
About

this recipe

Here's the first recipe from a Pastry Chef whom I have been following for years, Benoit Castel

I loved this tart from first sight ! It is called a "Mendiant tart", as it is inspired from French "Mendiants"

Mendiants are known in France as little disks made of dark chocolate, with nuts on top of them. They are found essentially around Christmas, but also sometimes given with Coffee after lunch or during the 4pm tea time. I love Mendiants ! and then of course, I loved this gourmet Mendiant Tart !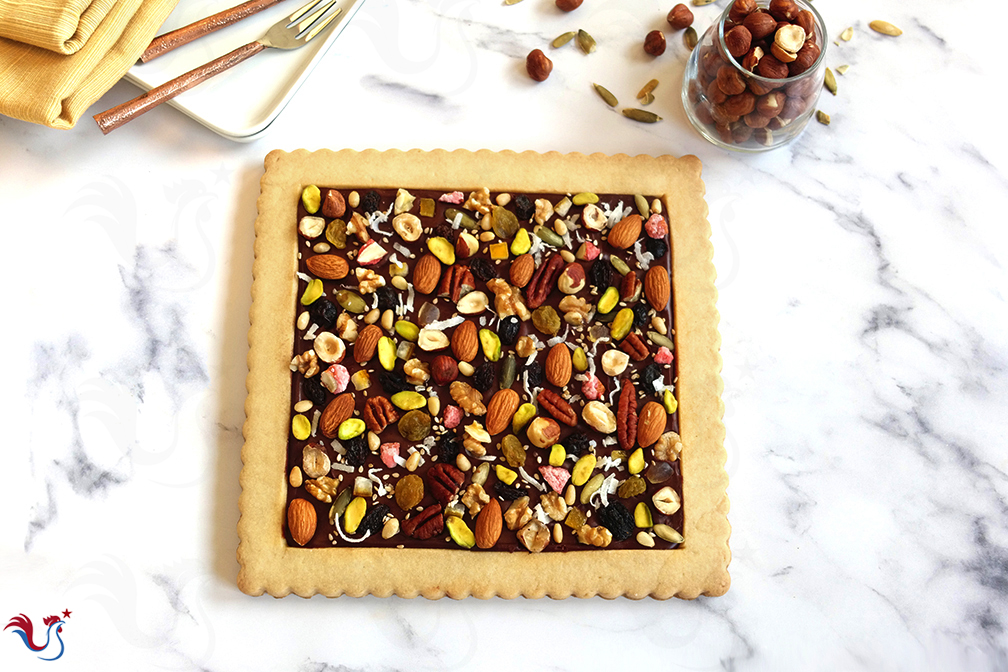 What I love the most in this tart is the contrast of flavors and textures : A dark intense chocolate softened by the sweet shorcrust, the soft ganache melting in your mouth and crunchy nuts. Not to mention, chocolate and nuts are supposed to be healthy, so no regrets eating this beauty !
Anyway, if I failed to convince you, here's the last feedback : Friends ! My American friends whom I never suspected them to enjoy this tart just LOVED IT, and this took me by surprise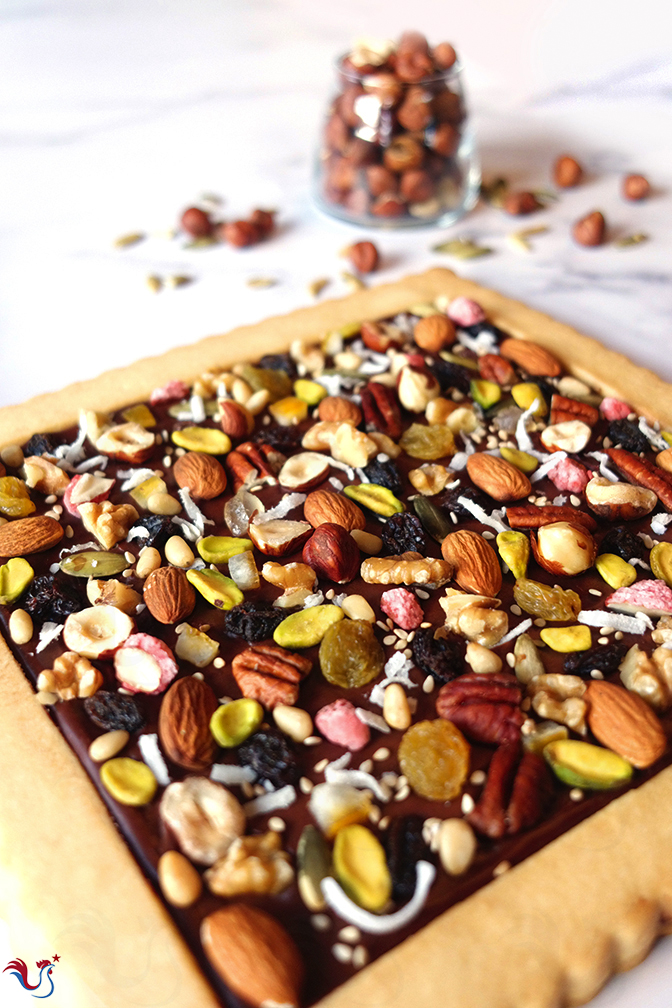 I thought this tart taste was just too French to be appreciated, but I was wrong. Everybody I made this tart for in Los Angeles loved it, kids and adults. On top of being a quite easy tart to make, it seems to be a real treat for everyone, so think of the ROI ! ('return of interest', a new measurement I use for my pastries... )
---
Source

of the recipe

A recipe found in the book "Le Paris des pâtisseries".

To purchase the book online:
Le Paris des pâtisseries

The recipe is on page 360
---
Modifications

to the original recipe

● Quick note for the quantity of Creamed Sweetened Short Pastry (1 ⅓ Cup or 400 g), it is the quantity as measured after rolling it out, so I advise you to plan for more for convenience (roughly double)

● I found the quantity of ganache was overestimated, so I divided it (as I hate wasting lefotvers !)
---
---
---
---
---
---
---
---
Tart shell
1. Let's start with the Creamed Sweetened Short Pastry (1 ⅓ Cup or 400 g). The recipe is HERE
2. I told you that the final weight is 1 ⅓ Cup or 400 g, but plan to make more for convenience (to roll out and to remove the center of the second square)
3. Benoit Castel tells us to wrap this airtight and store in the fridge for at least 4 hours
Food Wrap
4. Then, Benoit Castel tells us to roll out the dough (I do this between 2 silicone mats), 0.11" (or 1/8" or 0.3 cm) thick
5. Give it a rest in the fridge for 15 minutes
Wooden Rolling Pin
Rolling Pin with Removable Rings
Silicone Baking Mat
---
The edge pattern
One important aspect of this tart is to create those fluted sides, here's two options:
● For the first option (which I am using), we can take a fluted square pan, and use it as a huge cookie cutter
To purchase online, see HERE. Or: To purchase online, see HERE
● Second option, using a fluted pasta wheel. To purchase online, see HERE
Nonstick Tart Pan, Removable Bottom, 8″
Square Tart Pan 9″
Ravioli Wheel
6. Take the shortcrust dough out of the fridge
7. Then you need to make TWO fluted squares (Yes, I said 2), using either the fluted square pan as I did, or a fluted pasta wheel
8. Freeze to make the dough hard again
9. Take the excess dough around the squares. As we froze the dough, this will make this operation easy and the sides of the squares should be perfectly shaped
10. Here we go : we now have 2 fluted squares
11. On one of the 2 squares, we are going to remove the "center", this will create a frame that we will use on top of the first square
12. One one of the 2 squares, cut a smaller square, leaving roughly 0.78" (or 25/32" or 2 cm) off the edges. In my case, my square measured 7.87" (or 7 7/8" or 20 cm) x 7.87" (or 7 7/8" or 20 cm), so leaving 0.78" (or 25/32" or 2 cm) on each side, I cut a square measuring 6.29" (or 6 19/64" or 16 cm) x 6.29" (or 6 19/64" or 16 cm)
13. Then remove the "center square" (you may freeze to make this easier)
14. We now have one square and one frame that we need to assemble
15. Let's freeze this a few minutes to make the next steps easier
16. Lighly moist the edges of the square and place the frame on top of the square. The water will "glue" the 2 doughs
17. Benoit Castel tells us to store this in the fridge for 1 hour (I advise 2 hours). This resting time will "stabilize" the tart shell before we blind bake it
18.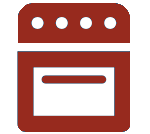 Bake in preheated oven at 360 °F / 180 °C (you may want to prick the dough before), for about 14 minutes. Benoit Castel says 20 minutes, but I find it too long if you want the crust to stay soft
19. This operation of baking a shortcrust pastry by itself with nothing in it is known as "Blind Baking". I have a complete post about this technique, HERE
Perforated Baking Mat
---
The Chocolate Ganache
20. Making ganache is so easy. First, place the Dark Chocolate ( 3 oz or 87 g) in a large mixing bowl. I must insist though, do buy a good quality brand. If you can, buy a professional brand like VALRHONA or CACAO BARRY. Those high quality professional chocolates can be purchased online, or in speciality stores
21. I discovered that my local supermarket Pavilion's in Los Angeles sells Valrhona chocolate for instance, my favorite chocolate brand for pastries
Pavilion's
1213 S Fair Oaks Ave
South Pasadena, CA 91030
USA
22. Pour the Cream (½ Cup or 100 g) and the Honey (1 teaspoon or 10 g) into a saucepan and bring to a boil
23. Then pour onto the bowl with chocolate, and wait for 1 minute, without stirring
Stainless Steel Mixing Bowl
Large Mixing Bowls, Stainless Steel
24. After 1 minute start stirring
25. And add cold dice Butter (1 Tablespoon or 20 g), and stir
26. Use COLD butter so to thicken the ganache faster
Polyglass Spatula
DeBuyer Whisk
KitchenAid Whisk
27. You may mix the ganache with an immersion blender to grind the lumps, or use a sieve or a strainer
Immersion Multi-Purpose Hand Blender
Immersion Hand Blender Bamix
---
Assembling
28. We can now pour the ganache onto the tart shell
29. Spread and even out with an offset Icing Spatula or a spoon
Wilton Offset Spatula
30. Then, add the nuts. You may take pretty much any nuts and dried fruit you like
31. I chose those : Pecan Nuts, Almonds, Hazelnuts, Pine Nuts, Pistachios, Dried Raisins, Candied Orange Peels, Sesame Seeds
32. A typical "French Mendiant" has walnuts, almonds, dried raisins, but you may take it a level up and americanize this with cranberries, pecans, and dried apricots. Wherever you live on this beautiful planet of ours, you can customize this tart with local fruit and nuts
That's it!
You need to now give this tart a rest in the fridge to allow the ganache to set (thus allowing the nuts to stick to the ganache)
A real gourmet treat ! Bon appétit !!