A beautiful and delicious mediterranean dish
---
About

this recipe

A delicious sweet & sour dish that I loved instantly. You will looooooove it too, trust me!
And sooooo easy to make. A recipe from British-Israelian cook Yotam Ottolenghi.
---
Source

of the recipe

A recipe that I found in the book of Yotam Ottolenghi, "The Cookbook".

To purchase the book online:
The Cookbook

The recipe is on page 104
---
---
---
---
---
---
The ingredients
1. You will need a few herbs : Parsley (⅓ Cup or 20 g), Mint leaves (½ Cup or 30 g) and Coriander leaves (cilantro) (⅓ Cup or 30 g). Start by washing them.
2. For the Chiles (3) I took "Serrano" chiles
3.
Make sure to seed them !
---
The marinade
4. The marinade is easy to make. Marinating the meat will make it more tender and tastier
5. Place into a blender: the Parsley (⅓ Cup or 20 g), the Mint leaves (½ Cup or 30 g), the Coriander leaves (cilantro) (⅓ Cup or 30 g), the Garlic Cloves (4), the Ginger Root (2 Tablespoons or 15 g). (To peel ginger, don't use a peeler, just scrape with a teaspoon), the Salt (½ teaspoon), the Lemon Juice (3 Tablespoons or 50 g), the Soy Sauce (¼ Cup or 60 g), the Chiles (3) (sans les graines !), the Vegetable oil (½ Cup or 120 g), the Honey (3 tablespoons), the Red Wine Vinegar (2 tablespoons) and the Water (4 tablespoons)
6. Blend all the ingredients
7. If you have a rack a lamb, (which is my favorite choice), cut the Lamb Chops (2 ¼ lbs or 1 kg)
8. Place all the ingredients in a dish, and make sure the meat is entirely covered
9. Cover with plastic wrap, pressing the plastic against the marinade
10. Refrigerate overnight, or at least 4 hours!
Large Mixing Bowls, Stainless Steel
Food Wrap
---
Next day: Cooking
11. The next day, remove the marinade from the refrigerator and let it warm at room temperature for about 1 à 2 hours
12. Preheat the oven to 400 °F / 200 °C
13. Take the meat and set the marinade sauce aside
14. Cook the meat on very high heat for 5 minutes. Make sure to take a skillet that is oven proof
15. Flip and cook another 5 minutes
Cast Iron Shallow Casserole Le Creuset
Saute Pan Scanpan
16. I also cover each piece of meat with the marinade sauce
17.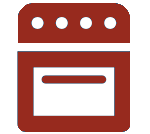 Transfer to the preheated oven, and bake 10/15 minutes at 400 °F / 200 °C
18. Meanwhile cook the marinade sauce on low/medium heat
---
Barbecue
19. You may also barbecue the meat instead
Weber 4-Burner Gas Grill
Weber Liquid Propane Small Grill
Weber Charcoal Grill
20. Once the meat is cooked, you will notice it's blackened. It's probably not burned, it's just that it's caramelized and it's delicious!
Transfer the marinade in a dish and place each piece of meat
Soooooo good. The taste of the lamb with the sauce... an incredibly aromatic combination of parsley, mint and coriander