Julia Child loved quiches, and gives us this perfect recipe for a simple and delightful quiche
---
About

this recipe

Julia Child was fond of quiche. In her own words, quiche are "practically foolproof, you can invent your own combinations"
Julia also mentions that this recipe can be easily turned into hors-d'oeuvres, by cooking this quiche in muffin pans, this will turn into mini-quiches, ideal for a party
Everyone loves it !
---
Julia Child, we owe you respect
This is a recipe of Julia Child. I have a great respect for Julia, for the dedication to French Cuisine and her huge work to assemble the French recipes and techniques in her book
She acquired her knowledge while living in Paris and studying at the Cordon Bleu de Paris
Julia spent many years in Paris and discovered the French food, and while attending the Cordon Bleu, learned about French cuisine techniques.
When she moved back to the United States, Julia Child published her book "Mastering the Art of French Cooking, Vol.1", a masterpiece that is still a best seller that you still can find nowadays in all bookstores in the states. What an impressive undertaking !
In fact, the book was written with two French ladies, Simone Beck and Louisette Bertholle
These three ladies met in Paris and started an informal school "L'école des trois gourmandes" (The School of the Three Food Lovers). Whenever Julia appeared on television, she kept the same name on a sticker on her chest.
After writing her book, Julia appeared on American television in a series called "The French Chef"
I learned about Julia Child quite late : While living in Pasadena, I followed a couple classes at the Cordon Bleu in Pasadena, and the teachers mentioned Julia and her book (see HERE). Call it a Coincidence: Julia lived in Pasadena and studied at the Cordon Bleu (but the one in Paris)
I learned about Julia Child quite late : While I was studying classes at the Cordon Bleu in Pasadena, my teachers mentioned Julia and her book. Coincidence: Julia lived in Pasadena and studied at the Cordon Bleu (but that in Paris). Here's a photo of my mug with that house:
This house is not a museum but a private house
House of Julia Child
625 Magnolia Avenue
Pasadena, California
---
Julia in Paris
And when I visited Paris, (see HERE), I had to walk by the place she had been living in Paris...
House of Julia in Paris
81, rue de l'Université
75007 Paris
France
---
Le Film "Julie et Julia"
You probably saw the movie about Julia Child "Julie and Julia", starring Meryl Streep et Amy Adams
The movie shows Julia's life, including her days at the Cordon Bleu Paris
The movie tells the story when Meryl Streep (Julia Child) lives in Paris and then in the States
The house of Julia, in the movie, is not 'rue de l'université' as I told you earlier, the movie location was a bit further, and of course I had to see it as well, as I enjoyed very much the movie !
House of Julia (movie)
10, Rue de Seine
75006 Paris
France
There are other film locations to discover while in Paris : This article talks about those places
Julia Child's book "Mastering the Art of French Cooking, Vol.1" is a must-have...
I initially thought the book would not be very useful, to be honest. However I changed my mind : it is very useful ! Julia captured the traditional recipes, and this information is important to us, food lovers

The recipe is on page 151

To purchase the book online:
Mastering the Art of French Cooking, Vol.1
---
Modifications

to the original recipe

I modified a couple things:

● I use a lesser quantity of Leeks : 1 ½ Cup or 200 g instead of 1 lbs...

● I used White Wine to deglaze, for a greater taste : Julia used water instead

● I also add Garlic powder, as the taste matches so well with leeks. Julia would agree with me, I'm sure !
---
---
---
---
---
---
---
1. Julia Child was not using the whole length of the Leeks, but only the white part and the light green part
2. Once minced, keep 1 ½ Cup or 200 g
3. Discard of the dark green part, only keep the white and light green part
4. Mince the Leeks (1 ½ Cup or 200 g)
Non-Slip Cutting Boards
Oak cutting board
Sekiryu Santoku Japanese Knife
4 Japanese Knives
5. Rince generously and dry up
6. Sauté the Leeks with the Butter (3 Tablespoons or 42 g)
7. Stir, and cook until lightly golden
8. Deglaze with the White Wine (½ Cup or 113 g), and add the Salt, and cook, covered, until almost all the liquid has evaporated
9. Transfer into a bowl, and place it in the refrigerator, we want the leeks to cool down before adding in the eggs
---
The "migaine", the batter
10. For the batter ("migaine"), it's as simple as adding those ingredients into a bowl and beat them : the Eggs (3), the Whipping Cream (1 ½ Cup or 340 g), the Pepper (½ teaspoon), the Nutmeg (1 pinch), the Grated Cheese (4 Tablespoons or 28 g), the Garlic powder (½ tablespoon)
Stainless Steel Mixing Bowl
DeBuyer Whisk
---
Shortcrust Pastry
You will need to prepare one of the Shortcrust Pastry Dough ("pâtes brisées"):
---
The mold
11. I used a 9.05" (or 9 1/16" or 23 cm) mold, that I buttered with a piece of cold butter
12. Roll out the Shortcrust Pastry and place into the buttered mold
13. Press the dough lightly, around the edges, and trim off the excess
14. Prick with a fork
Round Loose Bottom Tart and Quiche Pan, 9″
10 Inch Baking Dish
15. Pour the Leeks
16. Pour the batter
17. Sprinkle the quiche with the Grated Cheese (4 Tablespoons or 28 g). (I like Swiss Cheese, but any other cheese like parmesan will do!)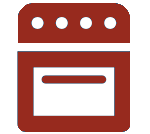 Bake in "upper third" of pre-heated oven at 380 °F / 190 °C for 35 minutes, or until browned
Voila!
Bon appétit!