A delicious recipe for BBQ Pork ribs, from a great restaurant in Highland Park, California
---
Source

of the recipe

This recipe is one of my favorites. My friends keep asking me for it, even the ones who do not usually like ribs !
I usually make large batches of marinade in late springtime, freeze it, and use it throughout the summer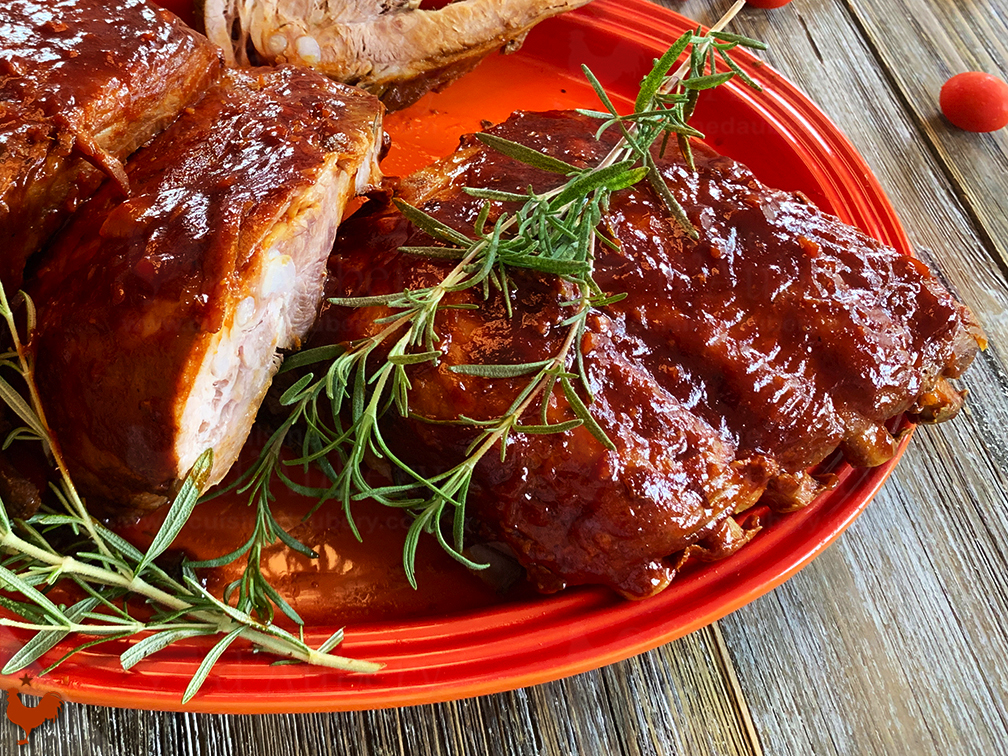 ---
Highland Park
A recipe that I got from a restaurant in Highland Park, California, an historic neighborhood of Los Angeles. Did you know that the main road is... Route 66 ?
Some historical houses have been preserved, and some have even turned into museums
Heritage Square Museum
3800 Homer St
Los Angeles, CA 90031
The population has changed and has now a lot of spanish/mexican influence, including in the local cuisine
Are these Asian workers ? I'd love to understand this painting as well
Livermore St
Highland Park, CA
A local market with a beautiful paintings
Market
Figueroa Ave
Highland Park, CA
We can see the Aztec Gods providing food, and a Mexican woman rolling her Corn Dough. Ancient Aztecs had developed the process of Nixtamalization, which helps them to compensate with deficiency in free niacin, a key ingredient for their (and our) survival. Amazing how advanced their civilization was !!
This is the popular "Chicken Boy", a landmark statue. Highland Park is now a gathering place for hipsters
5558 N Figueroa St
Los Angeles
CA 90042
Here on this mural, President Roosevelt who studied at local Occidental College
Angle de l'avenue 56 et Meridian Street
Highland Park, CA
Etats-Unis
And here, the painter William Lees Judson who settled on the banks of the Arroyo Seco
In this video, I show you a few images of my neighborhood in Los Angeles, Highland Park
---
---
---
---
---
Here's the recipe video:
https://www.youtube.com/watch?v=CKVNiudrcmw
1. Take a stockpot, pour water and bring to a boil. If the ribs are too long, cut them in half
2. After bringing to a boil, reduce to a simmer and add the Pork Ribs
3. You want to keep the water at a simmer, on low heat
---
The Barbecue Sauce
4. In a mixing bowl, add: the Honey (½ Cup or 200 g), the Balsamic Vinegar (2 Tablespoons or 30 g), the Soy Sauce (½ Cup or 120 g), the Ketchup (1 Cup or 300 g), the Brown Sugar (⅓ Cup or 70 g), the Garlic Cloves (6) that you must dice and the Chipotle (1 tablespoon) that you can mash with a fork
---
What are
Chipotle Peppers

?

If you don't know Chipotlé, just remember it's the same pepper as Jalapeño, dried and smoked

Though it's not as hot as the green Jalapeño, you need to add only a little bit...

... unless you are interested in traveling to the moon without a SpaceX rocket

You will find Chipotle easily in America, but not so easily in European markets

But if you can't find any, Internet can come to the rescue : To purchase online, see HERE
Chipotle Peppers
Goya Pepper Chiles Chipotle
5. Add in the spices : the Powdered Ginger (2 teaspoons), the Paprika (1 teaspoon), the Turmeric (1 teaspoon) and the Chile powder (or Espelette) (1 teaspoon)
6. Pour in the Worcestershire Sauce (2 Tablespoons or 40 g)
Worcestershire Sauce
7. Pour in the Whiskey (⅓ Cup or 70 g)
8. You have your sauce !
9. You may store it in a ziploc in the fridge
10. After 1 hour to 1 hour 45 minutes, check the meat : The meat should be fork tender
11. Strain the meat and let it cool down for 15 minutes
Large Stainless Steel Fine Mesh Strainer
---
Marinade
12. Mix the meat and sauce in a large mixing bowl
13. Marinate the meat for at least 4 hours, but overnight ideally
---
Barbecue'ing
14. Preheat the barbecue on high heat, place a tray (for the juices) and the meat above
15. You may also cook in the oven
Weber 4-Burner Gas Grill
Weber Liquid Propane Small Grill
Weber Charcoal Grill
16. Brush the meat several times until the end (10 minutes). You'll end up with perfectly juicy meat and a nice crisp, sizzling crust.
Pastry Brush
Silicone Brush, Heat Resistant for Pastry and Barbecue
17. Cooking time varies, but shouldn't take more than 10/20 minutes
18. You may use a bit of oil, in that case choose Sesame Oil
19. In fact, I use a barbecue griddle that makes it easier to keep my barbecue clean. Most griddles go to the dishwasher
Avocado Oil Spray
Nonstick Cast Iron Griddle
Reversible Cast Iron Round Griddle
Such a wonderful BBQ pork recipe... Bon appétit !!