This simple cake is the perfect cake for a morning delight with a warm cup of tea or coffee (and for the rest of the day, needless to say)
---
About

this recipe

Over the years, I have been making desserts that were more and more complex, as I was trying to keep up with new challenges, and new pastry techniques I was discovering. I think that's what I like in baking : you never reach the ceiling : There are always new challenges in the evolving world of Pâtisserie, a world that never sleeps !
However, despite the joy of reaching these challenges, I realized that I slowly forgot the joy of a simple dessert, and when I ate this simple dessert, it confronted me with a fundamental Baking reality : Simple and tasty desserts will never die
When I was a kid growing up in France, apple cake was one of my favorite desserts. It is simple, but the taste is so wonderful, I think it is one of my favorites. Why always make complex desserts when simplicity tastes so good ??
So, let's forget about those complex pâtisserie desserts that are beautiful but sometimes not as tasty as this simple and wonderful apple cake
This is a recipe by MOF Vincent Boué, a top French chef. You will like this cake, period.
If you are in a hurry - You don't have to make the caramelized apples and cream, you may just try the cake, which is itself wonderful...
---
Source

of the recipe

A recipe by MOF Vincent Boué found in the book "Fine French Desserts".

The recipe is on page 407
---
Modifications

to the original recipe

I modified only a few things...

● I multiplied the quantities to get a bigger cake. That's the way we like it in America...

● I add Apple Syrup (2 tablespoons) and Vanilla Extract (2 teaspoons or 14 g) for an enhanced taste

● I add caramelized apples and a whipped cream
---
---
---
---
---
---
---
---
The Pound Cake
1. For the following steps: You may use either a wire whip, or a stand mixer, or an electric beater
2. Let the Butter (1 ⅓ Cup or 293 g) soften at room temperature for 30 minutes
3. Beat the Butter (1 ⅓ Cup or 293 g) and the Sugar (1 Cup or 247 g) together
KitchenAid 7-Quart Stand Mixer
Hamilton Beach Stand Mixer
Hand Mixer
4. For the Apple Syrup (2 tablespoons), I use a syrup that is popular in the States : Monin. I found this syrup in a liquor store. You may find it online or in delicatessen retail stores
Galco's Old World Grocery
5702 York Blvd
Los Angeles, CA 90042
5. Add in the Apple Syrup (2 tablespoons), the Eggs (5) and the Vanilla Extract (2 teaspoons or 14 g), and mix
6. Sift the Flour (2 Cups or 293 g) and the Baking Powder (1 Tablespoon or 14 g) over the bowl
7. Mix
Sifter for Baking
Flour Sifter
Large Stainless Steel Fine Mesh Strainer
8. Peel and core the Apples (2.5), dice in large chunks
9. Add in and fold. The batter is ready!
Good Grips Y Peeler
Good Grips Swivel Peeler
---
The pan
10. Butter and flour your cake pan, or use parchment paper like I did
11. Pour the batter and gently smooth the top with an offset Icing Spatula
7 inch Springform Pan
Non-stick 9-inch Springform Cake Pan
Wilton Offset Spatula
---
Baking
12. Bake in preheated oven at 340 °F / 170 °C for about 50 minutes
13. I advise to lay a metal pan on top of the cake pan (avoids the cake to crust)
14. To check if the cake is baked : Insert a knife into the center of the cake, it should come out clean, with no streaks of batter, otherwise keep baking
15. Cool down at room temperature
16. Wrap with plastic wrap to keep the cake moist
Food Wrap
---
The caramelized apples
17. For the Apples (2) : Peel, core, and slice (0.19" (or 13/64" or 0.5 cm) slices)
Japanese Mandoline Slicer
18. In a a frying pan, melt the Sugar (½ Cup or 130 g)
19. The sugar will caramelize. Watch out: caramels burn your skin!
20. Pour the caramel into an oven proof pan
21. Add in the Apples
22.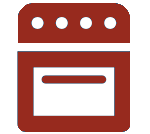 Bake at 380 °F / 190 °C for 30 minutes, with a metal pan placed over the pan (to keep the apples moist)
23. Take out and let cool down at room temperature
Heat Resistant Gloves
---
The whipped cream
24. In a mixing bowl, mix the Mascarpone Cheese (4 Tablespoons or 60 g), the Vanilla Sugar (1 Tablespoon or 14 g) and the Apple Syrup (1 teaspoon)
25. Pour in the Cream (1 Cup or 200 g) and whip : You may use either a stand mixer (like a Kitchen Aid appliance) or an electric beater
26. Transfer the whipped cream in a Pastry Bag with a Plain Pastry Tip
Matfer Bourgeat Pastry Bags
Disposable Pastry Bags
Plain Pastry Tips Set, Stainless Steel
27. Cut the cake top to make it flat
28. Spread a thin layer of whipped cream
29. Lay the caramelized apples, one slice at a time, leaving a margin with the cake edges
30. Pipe the whipped cream around the caramelized apples
---
The decoration
31. Let's make a syrup with lemon (this will avoid the oxidation process to begin and the apple slices to brown). Warm in a saucepan the Sugar (⅔ Cup or 150 g), the Water (⅔ Cup or 150 g) and the Lemon Juice (2 teaspoons or 10 g)
32. Slice very thinly the Apple (1)
33. Add in the slices into the syrup and cook for 1 minute, then transfer into a bowl with cold water and ice cubes (will preserve the apple color)
34. Dry on paper towels
35. Lay the dried slices on the whipped cream
36. I also like to add the Edible Gold Leaf over the caramelized apples
There you go!
Such a simple taste, that will always bring smile to all generations !